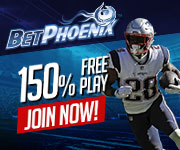 ---
Top 10 Offshore Sportsbooks
---
Eazybetz sifted through a lot of gambling websites since 2004. Our intention has always been to bring you what we feel are the 10 Highest Rated Offshore Sportsbooks in the industry. We have no scientific analysis of our sports books, there are no grafts or charts that look pretty while saying nothing and most of all we do not approach this as businessmen, but rather sports bettors. How we rate the sportsbooks listed here is simple, some think too simple. We ask 5 questions, if we consistinly get the answer we want to our questions then we give one point per annswer. Here are the 5 areas we look at.
How easy was for us to make deposits and then if applicable collect our winnings? Very eazy, just about painless.
How did the customer service staff treat us? Customer Service is polite, knowledgeable and personable.
How are their bonus plans and did they honor our bonuses without a hassle? Bonuses are as claimed.
Was their website easy enough to find what we wanted to find? Yes
Was our experience entertaining? Yes.
All 10 of these top sportsbooks are very good we dont even like to give ratings, but it seems thats what the people want to see so we started doing it, however the difference between a 4 and a 5 might be a customer service rep who had a cold one day and he/she was not as polite as usual, If there was a huge difference in the good and poor sportsbooks, the poor ones wouldnt have a chance on eazybetz. We have always maintained that you need to visit them your selves and get a feel for them. They are all above average.
Other than this all we are going to tell you is that each sportsbook should be checked out by you before you invest, you need to be of legal age to be here, if you leave this website to go to one of the sports books on this page please check to make sure you can gamble in the state/country you are in and please, don't wager if you think you might have a problem with gambling. No one here wants you to loose the rent money or the kids college fund. There is a link on the bottom of each of our pages here for Gamblers Anonymous, it's worth checking out. Thanks and bet smart.